This document outlines the growth stages businesses go through and key insights to move to the next level. Use this system to help grow you from entrepreneur to CEO.
===
System Architect: Daniel Marcos
Website: www.growthinstitute.com
Generated as part of the www.BusinessSystemsSummit.com
Stage 1: Startup Venture
Business start-up with 1-5 employees that needs to focus on product development.
 
Priority: Nail your value proposition.

Understand what are you selling, at what price point, in what packaging and what marketing to undertake to make your market want to buy your product or service.

Barrier: Market Dynamics

How is the market running today, who are your competitors, what prices are they selling their product or service for, what are their discounts?

Ability: Marketing.

Have a conversation with your client. Understand what are you selling them and what they want to buy.

Decision: Strategy

Create and update your business plan.
Stage 2: Growing Small Business
Small business with 6-15 employees, that needs to focus 100% on sales.
 
Priority: Hire the right team.

You cannot be very selective during the first stage, so use this stage to select the right team members.

Barrier: Leadership

Begin leading a team.
 
Learn how to delegate and define direction.

Ability: Predict, Delegate and Repeat

Create repetitive processes and build your systems.

Decision: People and Cash

Hire the right people and understand what it is to be a leader.
 
Be cash-wise for cash constraints.

Example: Your people see that the company is growing and start asking for a higher salary.
Stage 3: Business Scaling Up
Priority: Scale up.

After you build your team and have your systems in place you begin to scale up.

Barrier: Infrastructure.

Look for systems that will help create great structure in your company.

Ability: Align and Simplify.

Analyse your systems and make them easier and simpler.
 
Align people with just one or two things.

Decision: Execution.

Now that you have your product, your team and your systems, replicate that as fast and as cheaply as possible.

Functional Organisational Chart.

As a medium sized company, it is important to have that chart in order to give structure to your team.

CEO
 
The first level of management:

EA (executive assistant)  – delegate all small fixes so you don't have to do them.
 
HR/LO (HR Leadership & Organization) – that's  HR on a strategic level, that will hire and coach your first line of executives.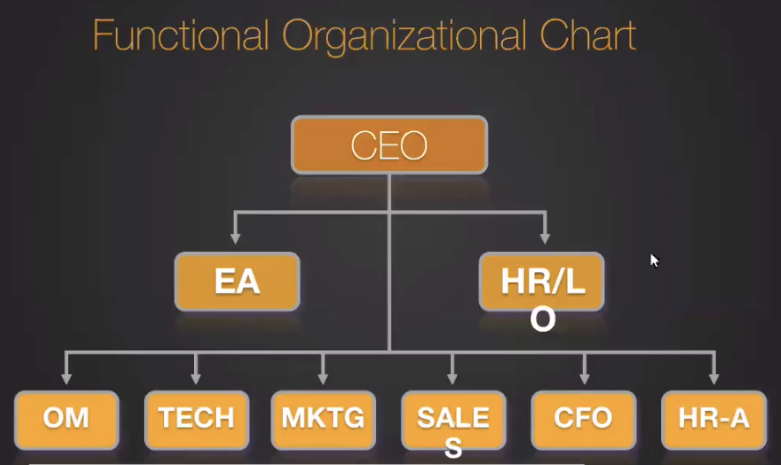 Service Oriented Functional Organizational Chart.

Turn your Functional Organisational Chart upside down.
 
Leadership in stage 3:  manage and help the people above you to be more productive.
 
The people on top of the chart, who are in touch with the client are the most important people in your organisation.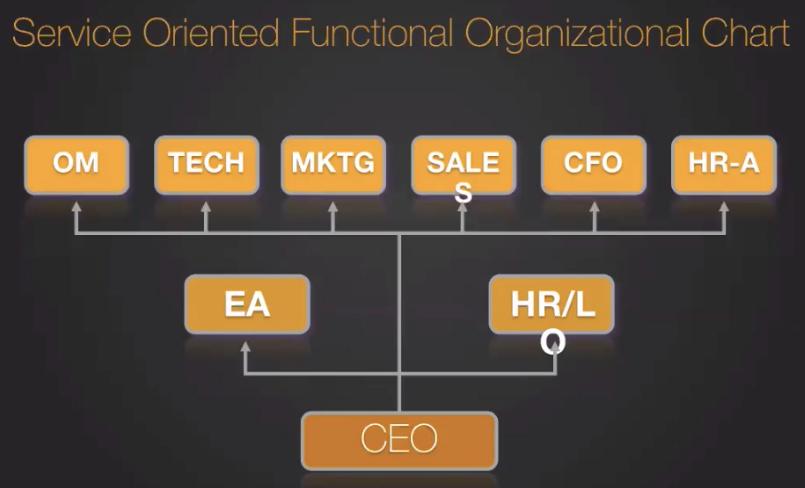 Identify and remove the bottleneck.
 
Evolve to leader of leaders.
Stage 4: Large business
Priorities: Continuous growth.
 
Ability: Be a strategic innovator and a catalyst of change.
 
Evolve from a leader to a satellite gravitating around the company on day-to-day operations and foresee the trends.

The S-curve of a product lifecycle. 

Once you have a client for your product, instead of investing in the same product, invest in another product to up-sell.

To 10x your company and 10x your team in terms of mentality and training.

Levels of Management / Training:

Individual contributors.

Frontline employees – train them on:

Technical know-how (teach them what they do, so they do it better)

Focus

Productivity – Results

Humbleness – Cultural fit.
 

First-time leaders: 

Foreman, supervisor, superintendents – train them to:

Be great listeners

Create performance pattern recognition

High-performance teams

Talent development
 

Leaders of leaders:

Departmental Managers – train them to:

Identify the right person for the right position

How to develop leaders

Big picture

Negotiation

Predictable skills
 

Leaders of the Organization

C-level Executives, Vice-presidents – train them on:

People

Change management

Global vision
 

The 4'C rule; how to get confident.

 Commitment – Example: Make a commitment: I am going to do THIS by THAT date.

Courage – The commitment will push you to have the courage to change and learn new systems and procedures

Capability - Courage will help you build new capabilities.by learning new systems and procedures.

Confidence – Having these new capabilities will help you have more confidence in execution.